Awards
Jimmy Dix Award | Stan Peters Award
Jimmy Dix Biography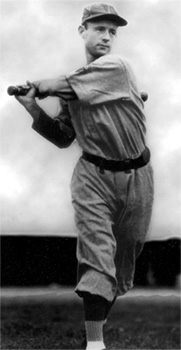 Jimmy Dix was born in Oakland in 1913. He grew up a typical downtown Oakland kid who loved playing baseball at what was then the Park Blvd. Playground. The fad of guys wearing the same pair of baggy cord pants month after month without washing them can be seen in pictures in the AEGIS yearbook of 1931. Smaller than most of his athletic friends, Jimmy's dirty cords made his 5'7" and 130 pounds less noticeable as did his baggy baseball uniform. Ultimately, his small frame was compensated for by his strong desire, hard practice and love for the game. He played shortstop ('short patch' in those days) and, after graduating high school, pitched occasionally as well. To get in extra practice, while at OHS, he would sometimes cut regular P.E. class. However, one class he did attend at OHS probably helped save his life in World War II.
He ultimately earned a Block 'O' in baseball and was a teammate of '30s OHS great Frank Sobrero. Jimmy graduated in 1931.
Jimmy was from a blue collar family. His father spent his early life as an orphan and had very little education. The Great Depression of the 1930's wasn't the only time many common people experienced hard times. During World War I and the 1920's, the Jimmy's father was often out of work. His dad finally became a boilermaker and sometimes found work at the shipyards in the Bay Area. More than one Christmas, volunteers from the Community Chest came by and asked his parents what the kids wanted for a present. Other than sports, going to the "pictures" (silent movies) was a big escape for kids in downtown Oakland. However, it cost 10 cents, which most kids didn't have. Jimmy and his friends would sometimes try to sneak in after the show started. He finally decided it would be easier just to work there and applied for a job.
After high school, Jimmy was lucky enough to get an assistant manager's job at a grocery store working 10 hours a day six days a week. His salary of $16.00 a week was good pay in those times and helped support the family.
Meanwhile, Jimmy continued to pursue his baseball dream. He soon began to earn some money traveling and playing ball for semi-pro teams. He was eventually called up by the Cincinnati Reds organization in 1935. The first night game in the major leagues was played at Crosley Field in Cincinnati that same year. An old photo shows Jimmy there in a Reds uniform. He was never able to play under the big lights, however, as arm and ankle injuries resulted in him being farmed to Monessen in the Penn State League.
Many communities had semi-pro or minor league teams during the 30's. Long before television, they were an economical way for people to see talented athletes without the expense of traveling from one large city to another. Most teams, even the big major league teams, traveled by bus or train to away games. Playing on one of these local teams was a way for athletes, if they were good enough, to earn a decent living and perhaps get discovered. In 1938, Jimmy was offered a contract with the Oakland Acorns (Oaks), but turned it down to accept an offer to play with his buddy Al Mudge and the Tacoma (Washington) Tigers of the Western International League (later the Pacific Coast League). Friendship was more important than money to Jimmy and he did very well at shortstop and at bat for the Tigers. Again, however, injuries forced him to return home to Oakland to rehabilitate. In those days, there were few trainers and the sophisticated, high tech profession of sports medicine didn't exist.
During the Great Depression, a time when most people were down and out, Jimmy was fortunate enough to earn a living playing the game he loved. In this sense, he lived the dream of many young men of his time.
During WW II, Jimmy enlisted in the Army Air Corps (which later became the Air Force) and was trained as a tail gunner and radio operator on a bomber. One day at the beginning of a training session, his sergeant asked if anyone knew how to type. The question sounded a little strange, but as Jimmy had taken typing and business classes at OHS, he raised his hand. His OHS education probably saved his life as most bomber crews at that time had a less than 50 - 50 chance of survival. Seeing some of the guys he had been through training with burned to death in their plane was a sobering experience. Soon after volunteering, Jimmy was transferred back to California and worked in a communications center responsible for the defense of the West Coast. Once, his background became known, he was recruited to play baseball on a military baseball team. These military teams were popular with a sports starved public, especially in smaller communities during wartime.
From the end of World War II into the late '50s, his professional years basically behind him, Jimmy played and coached for E. Bercovich & Son. Bercovich Furniture had a store in Oakland for over 80 years. It was a major supporter of baseball, and Bay Area sports in general. During the time Jimmy was with them as a coach, Bercovich was fortunate to have such future greats as Frank Robinson and Veda Pinson. Jimmy had been friends, since childhood, with Sam Bercovich. He ended up working for the Bercovich family for over 30 years. Sam was good friends with Al Davis, founder and owner of the Oakland Raiders during their three Super Bowl wins, and many Raiders and A's players frequented the store. The store on Franklin Street was a fun place for a Bay Area sports fan, as you never knew whom you might run into.
Jimmy kept coaching and helping aspiring young players into his 60s. He remained an outgoing, but modest person. Much of the information above is based on conversations, newspaper clippings, pictures, etc. from family and friends (almost all of whom passed away before Jimmy). Many people, even his son, did not really know the extent of his baseball career. Rather than his accomplishments, Jimmy enjoyed talking about the great people he met, as well as the places that playing baseball enabled him to see.
« Back to Awards